Here at Zengo, we've had a busy couple of months. We released our keyless wallet over a month ago and we've been humbled to receive such positive feedback. You can read some of our coverage from CoinDesk, Mashable, and listen to our CEO, Ouriel, talk Zengo with the hosts of the Keyword: Crypto podcast. We also recently became the first noncustodial wallet to develop support for Libra, Facebook's new cryptocurrency.
All the while, we are working hard on bringing Zengo to Android (it's coming very soon) and developing exciting new updates.
Hello BNB
Today, we're thrilled to announce that Zengo now supports Binance Coin (BNB). Our team has always had its eyes set on adding BNB support. Binance and their platform have been an integral aspect of the crypto community and it has grown dramatically in popularity over the last year in particular since the introduction of IEOs (crowdsourced funding on the Binance Launchpad). In March, we successfully added threshold signature support for BNB and in May, we open-sourced that project. We were glad to take these first steps towards supporting BNB and we received great feedback on the project. 
By adding BNB, Zengo becomes the first keyless, non-custodial wallet to support the asset. There is no simpler way to hold, send, and receive Binance Coin. And with threshold signatures, BNB owners now enjoy an unprecedented level of security.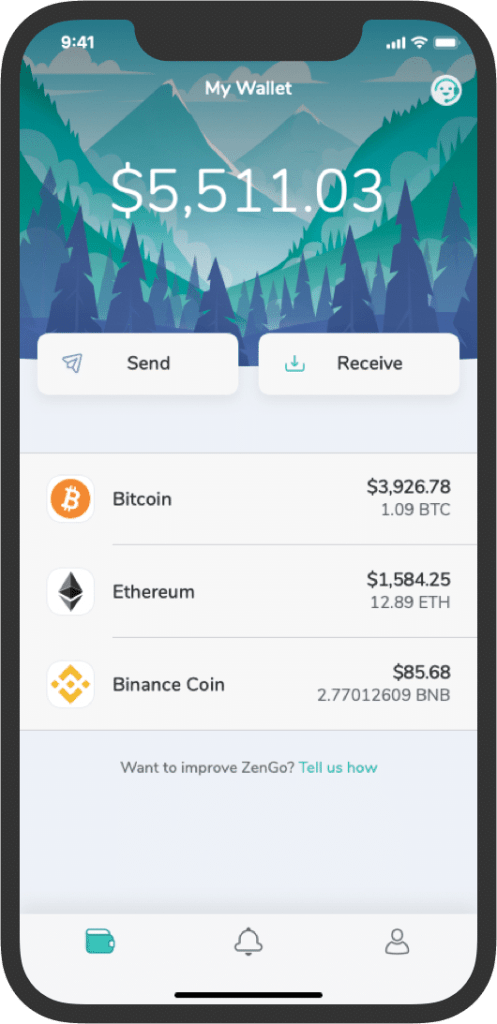 Zengo now supports ETH, BTC, and BNB, with many more coming soon. Adding BNB introduced a few interesting challenges that our engineering team was excited to tackle. The biggest obstacle was how to integrate the requirement for BNB MEMOs. MEMOs are used when depositing BNB into certain exchanges.
Because exchanges act as custodians and support many users, whenever someone deposits BNB, memos guarantee that the funds will be credited to the correct owner. With Zengo, you can seamlessly and simply input a MEMO whenever you're depositing BNB. You can read more about how to use MEMOs in our recent post.
One More Thing
A nice addition: as with BTC and ETH, when send/receiving BNB, Zengo will send you a real-time notification so you do not have to open your wallet to know if a transaction is complete. And of course, for each transaction, you can verifiy funds are on-chain with the built-in Explorer.
Keep an eye out for upcoming developments and updates. Many more are coming soon. Adding BNB support is just our first step to making sure that all your assets can be stored with peace of mind.
Happy Hodling!
Like this update? Let us know on Twitter! Haven't tried Zengo yet? What are you waiting for! Download it today.