Barking all around. There is a Shiba Inu in the house.
Today we welcome Doge at Zengo. We fully support it.  Store, Send, Receive, Buy, and Trade/Swap. 
Zengo is now one of the most feature complete wallets for Doge. It is certainly the easiest to set up , just a few seconds from anywhere. No password, no complex private key, no seed phrase. And, you can have full control on your dearly loved DOGE coins. You can now feel what it means to fully own a DOGE coin.
Adding a new chain at Zengo is a big deal. This is a serious commitment across the board from security, user experience, customer operation to financial services. We even included a special Doge emoji in our slack channels 🙂
We considered supporting Doge for a while but at some point it was hard to ignore it for a few reasons.
First, it was an amazing engineering and product challenge. The code base (which is a fork of Bitcoin we already support) and developer tools were limited and dated compared to other more mature chains. We had to produce serious research and engineering efforts to bring Doge to life in a way that feels simple, secure, safe and crisp. In particular in how network fees are handled.
We went ahead and compared Zengo's network fees to those of other top services. You can see the results right below.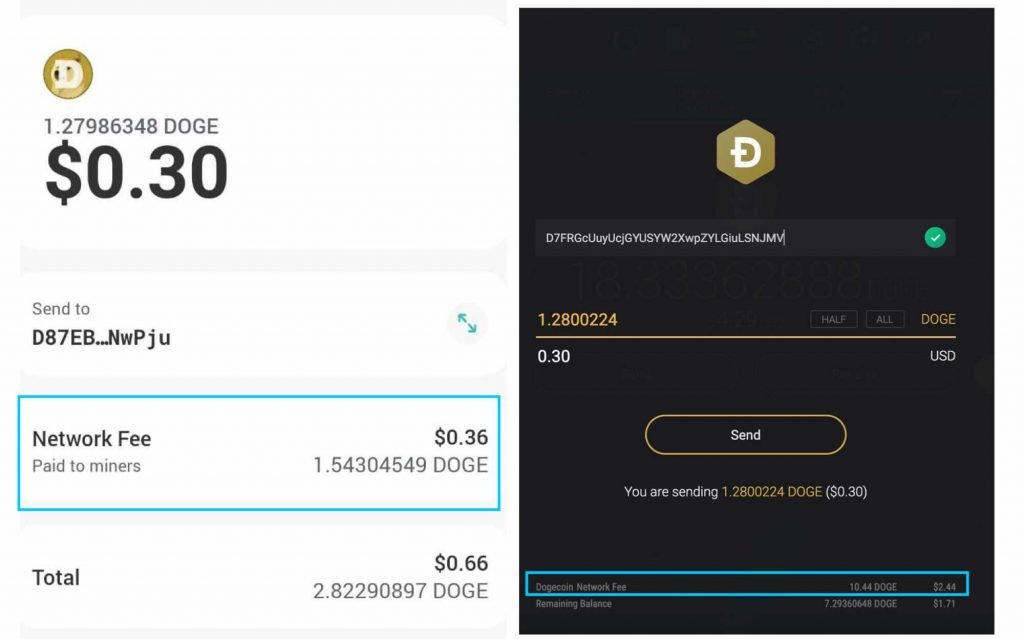 By the way: sending DOGE is fast and cheap compared to ….you know who.
Secondly, we could not ignore the massive demand from our own customers. In the past few months, Doge became the number one asset request ahead of any other. This is not a surprise because of the market dynamics. We also noticed there is a very limited choice of wallet options in the market for it. Most of the services only allow you to trade, without any option to move coins in or out, and some are only available in certain regions.
Doge is now available Zengo everywhere where Zengo can be used.
Finally, and that is probably the most important reason: we love Doge for what it represents. Doge is not a coin like every coin. Although it started as a cool joke and became evangelized at scale by Elon Musk, it resonated with an entire generation of new investors who are standing against the established systems and want things their own way. The power of Memes in a world of finance, destabilized by economical and heath crises, where references are hard to find cannot be underestimated. Uncertainty usually helps the adoption of new systems. The community around Doge is vibrant, energetic, creative, and hungry for new grounds.
We love that.
We want to support it in every possible way. We are contributing to Doge's core code at our level and obviously now supporting it in our popular Wallet.
We hope you like it.
To get started with Doge
Make sure Zengo is installed on your phone
Tap + (top left) on Zengo main screen
select Doge from the coin list
Voilà!
You can now send, receive, store, swap and buy Doge in a few taps.
If you read this on your mobile phone and have Zengo already installed you can just click here
To conclude, we want to leave you with 10 key facts you should know about DOGE (beyond the cool memes)
Doge code base is a fork of Bitcoin code base
The dogecoin symbol is Ð, a letter from Old English named "Eth" (despite being a coin-cidence, it has nothing to do with Ethereum which came after the symbol was chosen)
Dogecoin was initially released in December 2013 by two software engineers, Billy Markus (also known as "Shibetoshi Nakamoto") from IBM and Jackson Palmer from Adobe
Like Bitcoin, Doge uses Proof-of-Work (PoW) and for experts Doge is also using the same signature algorithm, which is ECDSA based on the 256sec1p curve.
There are approximately 1800 dogecoin network nodes (8000 for Bitcoin)
Four of Doge's mining pools have a hash rate of more than 50% (a sign that Doge is fairly centralized at the moment, a fact to be considered by owners).
Time per block. While in Bitcoin a new block is mined once every ten minutes, in dogecoin it happens once a minute
The median fee paid for a dogecoin transaction is 1.5 DOGE (~0.5 USD at the time of this post) while for Bitcoin it's about 0.00025 BTC (~9 USD)
While Bitcoin is known to have a hard-cap limit of 21 million coins, Dogecoin has no limit on the number of coins to be minted (another fact owners should be aware of )
Any Doge wallet address starts with a letter "D" – of course!
Bonus: the dog race is obviously a Shiba Inu, a breed of hunting dog from Japan.
Ps. Trade is coming to the USA in the coming few weeks